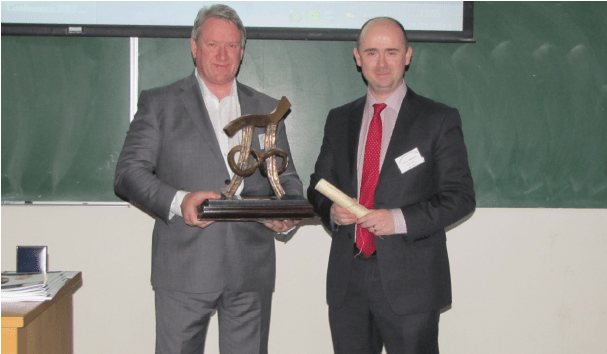 The presentation of the Victor Graham Award to Jason Kelly.
Presented by Dr.Tony McVeigh Institute for Numerical Computation and Analysis(INCA)
In 2011, Jason took the reins as IAMTA Chairman, a role in which he was particularly effective, leading the organization of a most successful annual conference at NUI Maynooth. He is also responsible for setting up and maintaining the highly acclaimed IAMTA website.  Jason also played a key role when the association initiated the inter-schools Team Quiz, organizing the event in the Dublin region and, in 2012, the first national final in Portlaoise. Before taking up his current position, he spent seven years teaching Applied Maths in St Michael's College, Dublin. For all of his service and achievements, Jason Kelly is a worthy recipient of the Victor Graham Trophy.